Hello again fellow sapphics xD Today's post is compiling a long list of every sapphic book (so far) that we've found that is releasing in 2021!! 2021 is truly going to be the year of the sapphics and we're SO excited for every single one of these books. *coughs* authors we want to review your books pls send us a copy *coughs* This post will be updated with new titles, book covers, dates and everything as they're released. Enjoyyyy! – Sasha and Amber ❤
♥♥
JANUARY 2021
♥♥♥♥
Persephone Station by Stina Leicht 5th January 2021
(Adult Sci-Fi) Standalone (?)
Hugo award–nominated author Stina Leicht has created a take on space opera for fans of The Mandalorian and Cowboy Bebop in this high-stakes adventure. Persephone Station, a seemingly backwater planet that has largely been ignored by the United Republic of Worlds becomes the focus for the Serrao-Orlov Corporation as the planet has a few secrets the corporation tenaciously wants to exploit. Rosie–owner of Monk's Bar, in the corporate town of West Brynner, caters to wannabe criminals and rich Earther tourists, of a sort, at the front bar. However, exactly two types of people drank at Monk's back bar: members of a rather exclusive criminal class and those who sought to employ them.
♥♥
Goldie Vance: The Hocus-Pocus Hoax by Lilliam Rivera 5th January 2021
(Young Adult Graphic Novel)
Move over, Nancy Drew–there's a new detective in town! Inspired by the beloved comic series, Goldie Vance is ready to sleuth her way through never-before-seen mysteries in this second original novel by Lilliam Rivera featuring 16 full-color comic pages!
♥♥
Detransition, Baby by Torrey Peters 7th January 2021
(Adult Contemporary) Standalone debut
A whipsmart debut about three women–transgender and cisgender–whose lives collide after an unexpected pregnancy forces them to confront their deepest desires around gender, motherhood, and sex.
♥♥
The Fallen by Ada Hoffmann 12th January 2021
(Young Adult Sci-Fi) Book 2 in a duology
The laws of physics acting on the planet of Jai have been forever upended; its surface completed altered, and its inhabitants permanently changed. The artificially intelligent Gods that ruled the galaxy, fearing heresy and chaos, have become the planet's jailers. Tiv Hunt once trusted these Gods absolutely, but now her world has changed and her allegiance has shifted. Now Tiv spends her days helping the last remaining survivors of Jai. Everyone is fighting for their freedom against unthinkable odds, and they call out for drastic action from their saviour, Yasira. 
♥♥
The Ruthless Lady's Guide to Wizardry by C.M. Waggoner 12th Janurary 2021
(Historical Fantasy) Standalone (?)
Hard-drinking petty thief Dellaria Wells is down on her luck in the city of Leiscourt—again. Then she sees a want ad for a female bodyguard, and she fast-talks her way into the high-paying job. Along with a team of other women, she's meant to protect a rich young lady from mysterious assassins. At first Delly thinks the danger is exaggerated, but a series of attacks shows there's much to fear. Then she begins to fall for Winn, one of the other bodyguards, and the women team up against a mysterious, magical foe who seems to have allies everywhere.
♥♥
Nighttide by Anna Burke 18th January 2021
(Adult Romance) Book 2 in a series
♥♥
Last Night at the Telegraph Club by Malinda Lo 19th January 2021
(Young Adult Historical Fiction) Standalone
America in 1954 is not a safe place for two girls to fall in love, especially not in Chinatown. Red-Scare paranoia threatens everyone, including Chinese Americans like Lily. With deportation looming over her father—despite his hard-won citizenship—Lily and Kath risk everything to let their love see the light of day.
♥♥
Wench by Maxine Kaplan 19th January 2021
(Young Adult Fantasy) Standalone
Tanya has worked at her tavern since she was able to see over the bar. She broke up her first fight at 11. By the time she was a teenager she knew everything about the place, and she could run it with her eyes closed. She'd never let anyone—whether it be a drunkard or a captain of the queen's guard—take advantage of her. But when her guardian dies, she might lose it all: the bar, her home, her purpose in life. So she heads out on a quest to petition the queen to keep the tavern in her name—dodging unscrupulous guards, a band of thieves, and a powerful, enchanted feather that seems drawn to her.
♥♥
Wider Than the Sky by Katherine Field Rothschild 19th January 2021
(Young Adult Contmporary) Standalone debut
In the wake of sudden tragedy, a pair of twin sisters uncovers a secret that rips open their world. Katherine Rothchild explores the pain and power of forgiveness in a stunning debut novel that will shatter your heart and piece it back together, one truth at a time.
♥♥
Queer: A Collection of LGBTQ Writing from Ancient Times to Yesterday by Frank Wynne 21st January 2021
(Adult Non-Fiction) Standalone
Drawing together writing from Catullus to Sappho, from Rimbaud to Anaïs Nin, and from Armistead Maupin to Alison Bechdel, translator Frank Wynne has collected a hundred of the finest works representing queer love by LGBTQ authors.
♥♥
When Tara Met Farah by Tara Pammi 26th January 2021
(New Adult Contemporary) Book 1 in a series
Sunshine Girl needs math lessons… Nineteen-year-old Tara Muvvala didn't mean to lead a double life. But her bone-deep aversion to math + a soul-deep desire to please her mother = her failing math grade + exploding food vlog 'this masala life'. Enter her mother's research intern and resident math genius Farah Ahmed. Tara makes a deal with Farah – help her pass the math course and she'll welcome Farah into the local Bollywood Drama & Dance Society. Grumpy girl gets life lessons…
♥♥
The Girls I've Been by Tess Sharpe 26th January 2021
(Young Adult Thriller) Standalone
Nora O'Malley is a lot of things. A sister. An ex. A secret girlfriend. Kind of crooked, but reformed… somewhat. Nora O'Malley's been a lot of girls. As the daughter of a con-artist who targets criminal men, she grew up her mother's protege. But when mom fell for the mark instead of conning him, Nora pulled the ultimate con: escape.
♥♥
Outlawed by Anna North 26th January 2021
(Adult Historical Fiction) Standalone
The Crucible meets True Grit in this riveting adventure story of a fugitive girl, a mysterious gang of robbers, and their dangerous mission to transform the Wild West.
♥♥
The Mask of Mirrors by M.A. Carrick ?? January 2021
(Adult Fantasy) Book 1 of a trilogy
Darkly magical and intricately imagined, The Mask of Mirrors is the unmissable start to the Rook & Rose trilogy, a rich and dazzling fantasy adventure in which a con artist, a vigilante, and a crime lord must unite to save their city.
♥♥
FEBRUARY 2021
♥♥♥♥
Fireheart Tiger by Aliette de Bodard 9th February 2021
(Adult Fantasy Novella) Standalone
'A post-colonial Goblin Emperor meets Howl's Moving Castle, where a young woman discovers her power lies not in her inheritance or her allies, but in her own sense of self-worth and the unexpected love of a powerful fire elemental.'
♥♥
The Gilded Ones by Namina Forna 9th February 2021
(Young Adult Fantasy) Book 1 in a trilogy
Sixteen-year-old Deka lives in fear and anticipation of the blood ceremony that will determine whether she will become a member of her village. Already different from everyone else because of her unnatural intuition, Deka prays for red blood so she can finally feel like she belongs. But on the day of the ceremony, her blood runs gold, the color of impurity–and Deka knows she will face a consequence worse than death.
♥♥
Tell No Tales: Pirates of the Southern Seas by Sam Maggs 9th February 2021
(Young Adult Graphic Novel) Standalone (?)
Anne Bonny had it all—her own ship, a pirate crew, and a fearsome reputation—but a new enemy has her on the run and it'll take all of Anne's courage to stay afloat. The night before a major heist, Anne has an unsettling dream, and come morning, the robbery is thwarted by Woodes Roger, a zealot who has sworn to eliminate piracy. With no plan to escape, Anne must persuade her crew to seek the meaning of her dream—or perish
♥♥
Of Silver and Shadow by Jennifer Gruenke 16th February 2021
(Young Adult Fantasy) Standalone (?) debut
Ren Kolins is a silver wielder—a dangerous thing to be in the kingdom of Erdis, where magic has been outlawed for a century. Ren is just trying to survive, sticking to a life of petty thievery, card games, and pit fighting to get by. But when a wealthy rebel leader discovers her secret, he offers her a fortune to join his revolution. The caveat: she won't see a single coin until they overthrow the King.
♥♥
Soulstar by C.L. Polk 16th February 2021
(Sci-Fi Fantasy) Book 3 in a trilogy
With Soulstar, C. L. Polk concludes her riveting Kingston Cycle, a whirlwind of magic, politics, romance, and intrigue that began with the World Fantasy Award-winning Witchmark. Assassinations, deadly storms, and long-lost love haunt the pages of this thrilling final volume.
♥♥
Madam by Phoebe Wynne 18th February 2021
(Adult Contemporary) Standalone debut
For 150 years, above the Scottish cliffs, Caldonbrae Hall has sat as a beacon of excellence in the ancestral castle of Lord William Hope. A boarding school for girls, it promises a future where its pupils will emerge 'resilient and ready to serve society'. Rose Christie, a 26-year-old Classics teacher, is the first new hire for the school in over a decade. At first, Rose feels overwhelmed in the face of this elite establishment, but soon after her arrival she begins to understand that she may have more to fear than her own ineptitude.
♥♥
Honey Girl by Morgan Rogers 23rd February 2021
(Adult Contemporary) Standalone debut
With her newly completed PhD in astronomy in hand, twenty-eight-year-old Grace Porter goes on a girls' trip to Vegas to celebrate. She's a straight A, work-through-the-summer certified high achiever. She is not the kind of person who goes to Vegas and gets drunkenly married to a woman whose name she doesn't know…until she does exactly that.
♥♥
Love is for Losers by Wibke Brueggemann 23rd February 2021
(Young Adult Contemporary) Standalone
Fifteen-year-old Phoebe thinks falling in love is vile and degrading, and vows never to do it. Then, due to circumstances not entirely in her control, she finds herself volunteering at a local thrift shop. There she meets Emma . . . who might unwittingly upend her whole theory on life.
♥♥
Out Past the Stars by K.B. Wagers 23rd February 2021
(Sci-Fi) Book 3 in a trilogy
An epic space opera trilogy featuring the gunrunner empress Hail Bristol, who must navigate alien politics and deadly plots to prevent an interspecies war.
♥♥
It's Been a Pleasure, Noni Blake by Claire Christian 23rd February 2021
(Adult Romance) Standalone
Of all the women and men Noni Blake has pleased in her life, there's one she's often overlooked—herself. After the end of a decade-long relationship, Noni decides it's time for that to change. She's finally going to prioritize her wants and desires and only do things (and people) that feel good in the moment. As she embarks on a pleasure-seeking quest that takes her halfway around the world, she discovers that maybe she can have everything, and everyone, she's ever wanted.
♥♥
Mazie by Melanie Crowder 23rd February 2021
(Young Adult Historical Fiction) Standalone
An eighteen-year-old aspiring actress trades in starry Nebraska skies for the bright lights of 1950s Broadway in this show-stopping new novel from award-winning author Melanie Crowder. Mazie is the story of a girl caught between two lives–and two loves–as she navigates who she is, what matters most, and the cost of following her dream.
♥♥
A Dark and Hollow Star by Ashley Shuttleworth 23rd February 2021
(Young Adult Fantasy) Debut book 1 in a duology
The "ironborn" half-fae outcast of her royal fae family. A tempestuous Fury, exiled to earth from the Immortal Realm and hellbent on revenge. A dutiful fae prince, determined to earn his place on the throne. The prince's brooding guardian, burdened with a terrible secret. Four queer teens, each who hold a key piece of the truth behind a series of gruesome and ritualistic murders, must form a tenuous alliance in their effort to track down the mysterious killer behind these crimes. If they fail, they risk the destruction of the faerie and human worlds alike.
♥♥
Among Thieves by M.J. Kuhn ?? February 2021
(Young Adult Fantasy) Standalone (?) debut
M. J. Kuhn's Among Thieves, in which a team of criminals who are the best at what they do come together to pull off an impossible job and against all odds start to care about each other, all while scheming to betray each other.
♥♥
Cute Mutants: The Sisterhood of Evil Mutants (Cute Mutants Vol 4) by SJ Whitby ?? February 2021
(Young Adult Novel) Vol 4 in a series
I always wanted to be an X-Man. Except people and me never got along, and apparently you need social skills to run a successful team. Cue Emma Hall's party. One hot make out session with the host herself, and I can talk to objects like my pillow (who's far too invested in my love life) and my baseball bat (who was a pacifist before I got hold of him). Now there's a whole group of us with strange abilities, including super hot ice queen Dani Kim who doesn't approve of how reckless I can be. The bigger problem is a mysterious mutant causing unnatural disasters, and we're the ones who have to stop him.
INDIES:
Sing for my Baby by Jenn Matthews, February 2021, Romance (Ylva)
Me, You and the Sunken Treasure by Georgette Kaplan, February 2021, Romance/Adventure (Ylva)
♥♥
MARCH 2021
♥♥♥♥
I Think I Love You by Auriane Desombre 2nd March 2021
(Young Adult Rom-Com) Standalone Debut
Arch-nemeses Emma, a die-hard romantic, and more-practical minded Sophia find themselves competing against one another for a coveted first-prize trip to a film festival in Los Angeles . . . what happens if their rivalry turns into a romance?
♥♥
Down Comes the Night by Allison Saft 2nd March 2021
(Young Adult Gothic Fantasy) Standalone debut
Wren Southerland is the most talented healer in the Queen's Guard, but her reckless actions have repeatedly put her on thin ice with her superiors. So when a letter arrives from a reclusive lord, asking Wren to come to his estate to cure his servant from a mysterious disease, she seizes the chance to prove herself. When she arrives at Colwick Hall, Wren realizes that nothing is what it seems. Particularly when she discovers her patient is actually Hal Cavendish, the sworn enemy of her kingdom.
♥♥
Follow Your Arrow by Jessica Verdi 2nd March 2021
(Young Adult Contemporary) Standalone
CeCe Ross is kind of a big deal. She and her girlfriend, Silvie, are social media influencers with zillions of fans and followers, known for their cute outfits and being #relationshipgoals. So when Silvie breaks up with her, CeCe is devastated. She's lost her first love, and now she can't help but wonder if she'll lose her followers as well.
♥♥
A Desolation Called Peace by Arkady Martine 2nd March 2021
(Adult Sci-Fi) Book 2 in a duology
An alien armada lurks on the edges of Teixcalaanli space. No one can communicate with it, no one can destroy it, and Fleet Captain Nine Hibiscus is running out of options. In a desperate attempt at diplomacy with the mysterious invaders, the fleet captain has sent for a diplomatic envoy. Now Mahit Dzmare and Three Seagrass—still reeling from the recent upheaval in the Empire—face the impossible task of trying to communicate with a hostile entity. Whether they succeed or fail could change the fate of Teixcalaan forever.
♥♥
In The Quick by Kate Hope Day 2nd March 2021
(Adult Sci-Fi) Standalone
A young, ambitious female astronaut's life is upended by a fiery love affair that threatens the rescue of a lost crew in this brilliantly imagined novel in the tradition of Station Eleven and The Martian.
♥♥
A Sweet and Bitter Magic by Adrienne Tooley 9th March 2021
(Young Adult Fantasy) Standalone debut
Tamsin is the most powerful witch of her generation. But after committing the worst magical sin, she's exiled by the ruling Coven and cursed with the inability to love. Wren is a source—a rare kind of person who is made of magic, despite being unable to use it herself. Sources are required to train with the Coven as soon as they discover their abilities, but Wren—the only caretaker to her ailing father—has spent her life hiding her secret. When a magical plague ravages the queendom, Wren's father falls victim. To save him, Wren proposes a bargain: if Tamsin will help her catch the dark witch responsible for creating the plague, then Wren will give Tamsin her love for her father.
♥♥
City of Spells by Alexandra Christo 9th March 2021
(Young Adult Fantasy) Book 2 in a duology
City of Spells, the follow-up to Alexandra Christo's gritty YA fantasy, Into the Crooked Place, finds the world on the brink of war and four unlikely allies facing sacrifices they had never imagined.
♥♥
Perfect On Paper by Sophie Gonzales 9th March 2021
(Young Adult Contemporary) Standalone
Darcy Phillips: Can give you the solution to any of your relationship woes―for a fee. Uses her power for good. Most of the time. Really cannot stand Alexander Brougham. Has maybe not the best judgement when it comes to her best friend, Brooke…who is in love with someone else. Does not appreciate being blackmailed. However, when Brougham catches her in the act of collecting letters from locker 89―out of which she's been running her questionably legal, anonymous relationship advice service―that's exactly what happens. In exchange for keeping her secret, Darcy begrudgingly agrees to become his personal dating coach―at a generous hourly rate, at least. The goal? To help him win his ex-girlfriend back.
♥♥
We Play Ourselves by Jen Silverman 9th March 2021
(Adult Contemporary) Standalone
After a humiliating scandal, a young writer flees to the West Coast to start over, where she is drawn into the morally-ambiguous orbit of a charismatic filmmaker and the teenage girls who are her next subjects.
♥♥
The Mirror Season by Anna-Marie McLemore 16th March 2021
(Young Adult Magic Realism)
When two teens discover that they were both sexually assaulted at the same party, they develop a cautious friendship through her family's possibly-magical pastelería, his secret forest of otherworldly trees, and the swallows returning to their hometown, in Anna-Marie McLemore's The Mirror Season…
♥♥
Bruised by Tanya Boteju 23rd March 2021
(Young Adult Contemporary) Standalone
To Daya Wijesinghe, a bruise is a mixture of comfort and control. Since her parents died in an accident she survived, bruises have become a way to keep her pain on the surface of her skin so she doesn't need to deal with the ache deep in her heart. So when chance and circumstances bring her to a roller derby bout, Daya is hooked. Yes, the rules are confusing and the sport seems to require the kind of teamwork and human interaction Daya generally avoids. But the opportunities to bruise are countless, and Daya realizes that if she's going to keep her emotional pain at bay, she'll need all the opportunities she can get.
♥♥
The Unbroken by C.L. Clark 23rd March 2021
(Adult Fantasy) Debut Book 1 of ?
Touraine is a soldier. Stolen as a child and raised to kill and die for the empire, her only loyalty is to her fellow conscripts. But now, her company has been sent back to her homeland to stop a rebellion, and the ties of blood may be stronger than she thought. Luca needs a turncoat. Someone desperate enough to tiptoe the bayonet's edge between treason and orders. Someone who can sway the rebels toward peace, while Luca focuses on what really matters: getting her uncle off her throne. Through assassinations and massacres, in bedrooms and war rooms, Touraine and Luca will haggle over the price of a nation. But some things aren't for sale.
♥♥
She's Too Pretty to Burn by Wendy Heard 30th March 2021
(Young Adult Thriller) Standalone
The summer is winding down in San Diego. Veronica is bored, caustically charismatic, and uninspired in her photography. Nico is insatiable, subversive, and obsessed with chaotic performance art. They're artists first, best friends second. But that was before Mick. Delicate, lonely, magnetic Mick: the perfect subject, and Veronica's dream girl. The days are long and hot―full of adventure―and soon they are falling in love. Falling so hard, they never imagine what comes next. One fire. Two murders. Three drowning bodies. One suspect . . . one stalker. This is a summer they won't survive.
♥♥
The Split by Laura Kay ?? March 2021
(Adult Contemporary) Standalone debut
Wounded and betrayed, after being dumped by her girlfriend, Ally makes off to her dad's in Sheffield with the one thing that might soothe the pain and force her ex to speak to her again: Emily's cat, Malcolm. Back home and forced into a 'date' by their parents, Ally and her first ever beard, Jeremy, come up with a ridiculous plan to win their exes back… to revenge-run a half marathon. Given neither of them can run, they enlist the support of athletic, not to mention beautiful, Jo. But will she have them running for the hills… or will their ridiculous plan pay off…?
INDIES:
Never Say Never by Rachael Sommers, March 2021, Romance (Ylva)
Shimmer (Working Title) by C. Fonseca, March 2021, Romantic Suspense (Ylva)
♥♥
APRIL 2021
♥♥♥♥
Zara Hossain Is Here by Sabina Khan 6th April 2021
(Young Adult Contemporary) Standalone
Zara's family has waited years for their visa process to be finalized so that they can officially become US citizens. But it only takes one moment for that dream to come crashing down around them.
♥♥
Malice by Heather Walter 13th April 2021
(Adult Fantasy) Book 1 in a duology
Once upon a time, there was a wicked fairy who, in an act of vengeance, cursed a line of princesses to die. A curse that could only be broken by true love's kiss. You've heard this before, haven't you? The handsome prince. The happily-ever-after. Utter nonsense. Let me tell you, no one in Briar actually cares about what happens to its princesses. Not the way they care about their jewels and elaborate parties and charm-granting elixirs. I thought I didn't care, either. Until I met her.
♥♥
The Light of the Midnight Stars by Rena Rossner 13th April 2021
(Fantasy) Standalone (?)
An evocative combination of fantasy, history, and Jewish folklore, The Light of the Midnight Stars is fairytale-inspired novel from the author of The Sisters of the Winter Wood.
♥♥
The Secret Poet by Georgia Beers 13th April 2021
(Adult Romance) Standalone
..
♥♥
She Drives Me Crazy by Kelly Quindlen 20th April 2021
(Young Adult Contemporary) Standalone
After losing spectacularly to her ex-girlfriend in their first game since their break up, Scottie Zajac gets into a fender bender with the worst possible person: her nemesis, the incredibly beautiful and incredibly mean Irene Abraham. Things only get worse when their nosey, do-gooder moms get involved and the girls are forced to carpool together until Irene's car gets out of the shop.
♥♥
These Feathered Flames by Alexandra Overy 20th April 2021
(Young Adult Fantasy) Book 1 in a duology
When twin heirs are born in Tourin, their fates are decided at a young age. While Izaveta remained at court to learn the skills she'd need as the future queen, Asya was taken away to train with her aunt, the mysterious Firebird, who ensured magic remained balanced in the realm. But before Asya's training is completed, the ancient power blooms inside her, which can mean only one thing: the queen is dead, and a new ruler must be crowned.
♥♥
The Key to You and Me by Jaye Robin Brown 20th April 2021
(Young Adult Contemporary) Standalone
Piper Kitts is spending the summer living with her grandmother, training at the barn of a former Olympic horseback rider and trying to get over her ex-girlfriend. Much to Piper's dismay, her grandmother is making her face her fear of driving head-on by forcing her to take lesson with a girl in town. Kat Pearson has always suspected that she likes girls but fears her North Carolina town is too small to color outside the lines. But when Piper's grandmother hires Kat to give Piper driving lessons, everything changes.
♥♥
Hot Stew by Fiona Mozley 20th April 2021
(Adult Contemporary?) Standalone
Hot Stew is an insightful and ambitious novel about property, ownership, wealth and inheritance. It is about the place we occupy in society, especially women, and the importance placed on class and money. It doesn't shy away from asking difficult questions but does so with humour and intelligence.
INDIES:
Counting the Stars by Cheyenne Blue, April 2021, Romance (Ylva)
Death's Champion by Karen Frost, April 2021, YA Fantasy (Ylva)
Worthy of Love (Working Title) by Quinn Iyins, April 2021, Romance (Ylva)
♥♥
MAY 2021
♥♥♥♥
When You Get The Chance by Tom Ryan and Robin Stevenson 4th May 2021
(Young Adult Contemporary) Standalone
Follow cousins on a road trip to Pride as they dive into family secrets and friendships in this contemporary YA novel — perfect for fans of David Levithan and Becky Albertalli.
♥♥
Off the Record by Camryn Garrett 10th May 2021
(Young Adult Contemporary) Standalone
From Camryn Garrett, whose debut Full Disclosure was called "honest, eye-opening and heartful" by Angie Thomas, comes a ripped-from-the-headlines story of a teen journalist who stumbles across the #metoo story of the decade and has to weigh the risks against the need to fight for justice. A bi teen reporter?? yes pls
♥♥
Cool for the Summer by Dahlia Adler 11th May 2021
(Young Adult Contemporary) Standalone
Lara's had eyes for exactly one person throughout her three years of high school: Chase Harding. He's tall, strong, sweet, a football star, and frankly, stupid hot. Oh, and he's talking to her now. On purpose and everything. Maybe…flirting, even? Except she's haunted by a memory. A memory of a confusing, romantic, strangely perfect summer spent with a girl named Jasmine. A memory that becomes a confusing, disorienting present when Jasmine herself walks through the front doors of the school to see Lara and Chase chatting it up in front of the lockers.
♥♥
Before. After. Always. by Morgan Lee Miller 11th May 2021
(Adult Romance) Standalone
For Eliza Walsh, life is full of risk. She knows a thing or two about pain, and not just from her job as chief resident at the hospital. She's reeling from a car accident that took the life of the only woman she's ever loved, and her parents' betrayal has strained their relationship to the point of nonexistence. But Blake Navarro enters the picture and challenges Eliza's cautious way of living. Blake's everything she isn't: open, carefree, and a little reckless. When Eliza discovers that Blake, too, is healing from a huge loss, she feels seen, understood, and less alone.
♥♥
The Hellion's Waltz by Olivia Waite 11th May 2021
(Adult Historical Romance) Book 3 in a trilogy
♥♥
A Master of Djinn by P. Djèlí Clark 11th May 2021
(Adult Fantasy) Standalone (?)
Though Fatma el-Sha'arawi is the youngest woman working for the Ministry of Alchemy, Enchantments and Supernatural Entities, she's certainly not a rookie. After preventing the destruction of the universe last summer, Agent Fatma's one of the Ministry's top agents. So when someone murders a secret brotherhood dedicated to one of the most famous men in history, Al-Jahiz, Agent Fatma is called onto the case.
♥♥
Black Water Sister by Zen Cho 11th May 2021
(Adult Fantasy) Standalone
A reluctant medium discovers the ties that bind can unleash a dangerous power in this compelling Malaysian-set contemporary fantasy. Jessamyn Teoh is closeted, broke and moving back to Malaysia, a country she left when she was a toddler. So when Jess starts hearing voices, she chalks it up to stress. But there's only one voice in her head, and it claims to be the ghost of her estranged grandmother, Ah Ma.
♥♥
It Goes Like This by Miel Moreland 18th May 2021
(Young Adult Contemporary) Standalone
OwnVoices novel It Goes Like This, about a former queer pop band, the fallout of their globally mourned breakup, and the hometown storm that brings the teens back together, leaving them to wonder if they can rebuild more than just the town.
♥♥
In the Ravenous Dark by A.M. Strickland 19th May 2021
(Young Adult Fantasy) Standalone (?)
In the Ravenous Dark is a dark fantasy with LGBTQIA+ relationships, featuring a teen girl whose blood magic abilities put her at the center of a kingdom in turmoil — and bound to an undead guardian meant to control her power. 'A pansexual bloodmage reluctantly teams up with an undead spirit to start a rebellion among the living and the dead'
♥♥
Not My Problem by Ciara Smyth 25th May 2021
(Young Adult Contemporary) Standalone
Aideen has plenty of problems she can't fix. Her best (and only) friend is pulling away. Her mother's drinking problem is a constant concern. She's even running out of outlandish diseases to fake so she can skip PE. But when Aideen stumbles on her nemesis, overachiever Meabh Kowalski, in the midst of a full-blown meltdown, she sees a problem that—unlike her own disaster of a life—seems refreshingly easy to solve. Meabh is desperate to escape her crushing pile of extracurriculars. Aideen volunteers to help. By pushing Meabh down the stairs.
♥♥
Hani and Ishu's Guide to Fake Dating by Adiba Jaigirdar 25th May 2021
(Young Adult Contemporary) Standalone
2 queer POC teens start fake dating and they end up falling in love???? AND it's slow-burn with mutual pining?? GIMMEEEEE
♥♥
Untitled by Meryl Wilsner 25th May 2021
(Adult Romance) Standalone
A woman who doesn't believe in love and a hopeless romantic start a dating podcast only to discover nothing tops the charts like the real deal. When I tell you I CANNOT WAIT FOR THIS!!!!!
♥♥
Cute Mutants: Galaxy Brain (Cute Mutants Vol 5) by SJ Whitby ?? May 2021
(Young Adult Novel) Vol 5 in a series
♥♥
JUNE 2021
♥♥♥♥
One Last Stop by Casey McQuiston 1st June 2021
(New Adult Contemporary Romance) Standalone
From the New York Times bestselling author of Red, White & Royal Blue comes a new romantic comedy that puts a queer spin on Kate & Leopold.
♥♥
The Girl from the Sea by Molly Ostertag 1st June 2021
(Young Adult Graphic Novel) Standalone (?)
Fifteen-year-old Morgan has a secret: She can't wait to escape the perfect little island where she lives. She's desperate to finish high school and escape her sad divorced mom, her volatile little brother, and worst of all, her great group of friends…who don't understand Morgan at all. Because really, Morgan's biggest secret is that she has a lot of secrets, including the one about wanting to kiss another girl.
♥♥
To Break a Covenant by Alison Ames 1st June 2021
(Young Adult Horror/Thriller) Standalone debut
A queer horror pitched with shades of SAWKILL GIRLS, in which the people of an old mining town begin experiencing strange phenomena—sleepwalking, night terrors, voices only they can hear—prompting four teen girls to investigate.
♥♥
Never Kiss Your Roommate by Philline Harms 1st June 2021
(Young Adult Romance) Standalone
♥♥
The Chosen and the Beautiful by Nghi Vo 1st June 2021
(Historical Fantasy) Standalone
Jordan Baker grows up in the most rarefied circles of 1920s American society—she has money, education, a killer golf handicap, and invitations to some of the most exclusive parties of the Jazz Age. She's also queer, Asian, adopted, and treated as an exotic attraction by her peers, while the most important doors remain closed to her.
♥♥
Dead Dead Girls by Nekesa Afia 1st June 2021
(Historical Mystery) Standalone (?)
Nekesa Afia's DEAD DEAD GIRLS, in which a black girl in 1920s Harlem must push herself past the limits of her fears, her past, and the prejudices of New York City society to catch a killer, to Michelle Vega at Berkley in a nice two-book deal, by Travis Pennington
♥♥
The Very Nice Box by Eve Gleichman 8th June 2021
(New Adult Contemporary) Standalone debut
A hardworking, heartbroken product engineer who works for a fashionable furniture company where corporate change lands her under the purview of a young, charismatic boss who seems determined to get close to her at all costs.
♥♥
Fire with Fire by Destiny Soria 8th June 2021
(Young Adult High Fantasy) Standalone (?)
Dani and Eden Rivera were both born to kill dragons, but the sisters couldn't be more different. For Dani, dragon slaying takes a back seat to normal high school life, while Eden prioritizes training above everything else. Yet they both agree on one thing: it's kill or be killed where dragons are concerned… Until Dani comes face-to-face with one and forges a rare and magical bond with him.
♥♥
The Sea Is Salt and So Am I by Cassandra Hartt 8th June 2021
(Young Adult Contemporary) Standalone (?)
Exquisitely honest and shimmering with emotion, The Sea is Salt and So Am I is a captivating multi-POV story that probes the depths of what it means to love and trust―both ourselves and others.
♥♥
Love and Other Natural Disasters by Misa Sugiura 8th June 2021
(Young Adult Contemporary) Standalone
The queer YA rom-com follows Nozomi Takashi as she enacts her plan for a summer of reinvention, starting a fake-dating relationship with her new coworker Willow and embarking on shenanigans around San Francisco with her best friend Ruby. But no fauxmance survives the intrusion of real life—and real feelings—for long.
♥♥
The Jasmine Throne by Tasha Suri 8th June 2021
(Adult Fantasy) Book 1 in a trilogy
Imprisoned by her dictator brother, Malini spends her days in isolation in the Hirana: an ancient temple that was once the source of the powerful, magical deathless waters — but is now little more than a decaying ruin. Priya is a maidservant, one among several who make the treacherous journey to the top of the Hirana every night to clean Malini's chambers. She is happy to be an anonymous drudge, so long as it keeps anyone from guessing the dangerous secret she hides. But when Malini accidentally bears witness to Priya's true nature, their destinies become irrevocably tangled. One is a vengeful princess seeking to depose her brother from his throne. The other is a priestess seeking to find her family. Together, they will change the fate of an empire.
♥♥
Afterlove by Tanya Byrne 10th June 2021
(Young Adult Contemporary) Standalone
Ash Persaud is about to become a reaper in the afterlife, but she is determined to see her first love Poppy Morgan again, the only thing that separates them is death. This New Year's Eve, Ash is gets an RSVP from the afterlife she can't decline: to join a clan of fierce girl reapers who take the souls of the city's dead to await their fate. But Ash can't forget her first love, Poppy, and she will do anything to see her again … even if it means they only get a few more days together. Dead or alive …
♥♥
Ace of Spades by Faridah Àbíké-Íyímídé 10th June 2021
(Young Adult Thriller) Debut
An incendiary and utterly compelling thriller with a shocking twist that delves deep into the heart of institutionalized racism, from an exceptional new YA voice. Welcome to Niveus Private Academy, where money paves the hallways, and the students are never less than perfect. Until now. Because anonymous texter, Aces, is bringing two students' dark secrets to light. Talented musician Devon buries himself in rehearsals, but he can't escape the spotlight when his private photos go public. Head girl Chiamaka isn't afraid to get what she wants, but soon everyone will know the price she has paid for power. Someone is out to get them both. Someone who holds all the aces. And they're planning much more than a high-school game…
♥♥
The Papercutter by Cindy Rizzo 21st June 2021
(Young Adult Speculative Fiction) Standalone
Three Jewish teens come of age in a split USA. Jeffrey longs to escape the USF and joing Dani, a queer girl in the USD. Judith can't understand why she is able to see into people's souls. All three are unprepared for what they might confront as increased violent anti-Semitism threatens Jews in the USF.
♥♥
Darling by K. Ancrum 22nd June 2021
(Young Adult Fantasy) Standalone
A retelling of Peter Pan in modern day Chicago, in which Wendy Darling follows Peter and his Lost Boys through the city's nightlife and underbelly, only to discover that Peter isn't what he seems…and the Lost Boys are in more trouble than they realize.
♥♥
The All-Consuming World by Cassandra Khaw 22nd June 2021
(Adult Sci-Fi) Standalone (?)
A diverse team of broken, diminished former criminals get back together to solve the mystery of their last, disastrous mission and to rescue a missing and much-changed comrade… but they're not the only ones in pursuit of the secret at the heart of the planet Dimmuborgir. The highly-evolved AI of the universe have their own agenda and will do whatever it takes to keep humans from ever controlling the universe again.
♥♥
Gearbreakers by Zoe Hana Mikuta 29th June 2021
(Young Adult Sci-Fi) Book 1 of ?
Mechas and mecha swordfights and wlw-pining disaster girls who like tattooing each other as a form of affection™. I AM LOOKING,,,, In an age of mechanical deities puppeteered by a power-hungry nation, the sole defense against the onslaught of false Gods is a ragtag group of renegades known as the Gearbreakers, and seventeen-year-old Eris "The Frostbringer" Shindanai takes pride in being one of the most infamous of the lot. Her mission is simple: infiltrate any Windups—a charming nickname for these hundred-foot-tall bionic nightmares—that dare to cross her path, and take the atrocities apart from the inside.
♥♥
JULY 2021
♥♥♥♥
She Who Became the Sun by Shelley Parker-Chan 29th July 2021
(Adult Historical Fantasy) Standalone debut
China, 1345. After her family's death, an iron-willed peasant girl steals her brother's identity and fate of greatness in order to survive. Defying the bounds of gender with cunning and ingenuity, her ambition takes her from monk to leader of the rebellion against China's Mongol rulers. But her rise brings her face to face with the empire's most feared general: a eunuch as trapped by his gender as she is free of hers.
♥♥
A Beautiful Doom by Laura Pohl ?? July 2021
(Young Adult Mystery/Thriller) Book 1 of ??
The story of four troubled friends, one murdered girl, and a dark fate that may leave them all doomed. While investigating the murder of their best friend, four reimagined fairytale heroines must uncover connections to their ancient curses and attempt to forge their own paths before it's too late.
♥♥
The World Ends Here by Rory Power ?? July 2021
(Young Adult Mystery/Thriller) Standalone (?)
♥♥
The Sea Wolf by Anna Burke ?? July 2021
(Sci-Fi Fantasy) Book 2 in a series
Life aboard the mercenary ship Man o' War is rarely dull as hurricanes, swarms of jellyfish, and man-eating squid pose daily doses of danger. As intrigue and subterfuge from enemies old and new begin to surround its captain, the infamous Miranda Stillwater, even an uncanny sense of direction won't be enough to help Compass Rose navigate these dangerous straits. As dark secrets bubble to the surface and everything she's fought so hard for begins to crumble, Rose learns the hard way that she'll have to rely on the only person who can save her from certain disaster. Unfortunately, that person is Compass Rose herself.
INDIES:
House of Agnes by Fiona Zedde, July 2021, Romance (Ylva)
The Fifth Surgeon by Faith Prize, July 2021, Medical Romance (Ylva)
♥♥
AUGUST 2021
♥♥♥♥
The Dead and the Dark by Courtney Gould 3rd August 2021
(Young Adult Fantasy/Thriller) Standalone Debut
A debut supernatural thriller about two girls who fall in love when they team up to stop an evil demonic presence from terrorizing their small town. Enemies-to-lovers!!!!!!
♥♥
The Sisters of Reckoning by Charlotte Nicole Davis 10th August 2021
(Young Adult Fantasy) Book 2 in a duology
The Sisters of Reckoning is the blockbuster sequel to Charlotte Nicole Davis's alternate Old West-set commercial fantasy adventure.
♥♥
Windfall by Shawna Barnett 12th August 2021
(?) Book 1 in a series
Princess Ilyana Romenel was a child lost on the night of a violent coupe. Captain Liana Foley is a pirate who gives her spoils back to the people. No one is supposed to know that they are the same woman. But then, a mysterious letter interrupts Liana's extraordinary life on the high seas. In order to keep her identity a secret, she must attend a ball at the royal palace where she was born. After she accidentally kidnaps Princess Rhian Vitalis, these polar opposites form a reluctant friendship.
♥♥
Not Your Hero by C.B. Lee 31st August 2021
(Young Adult Sci-Fi) Book 4 in a series
In the much-anticipated conclusion to the four-part Sidekick Squad series, Abby Jones has a lot on her plate: She must regain her superpowers, mend her relationships with her girlfriend, Jess, and, along with their friends Bells and Emma, save the Collective from the evil Hero's League.
♥♥
A Lesson in Vengeance by Victoria Lee 3rd August 2021
(Young Adult Contemporary Mystery/Thriller) Standalone
Pitched as The Secret History meets Genuine Fraud and The Craft, it's the story of Felicity Morrow, a senior returning to school after her girlfriend's tragic death, only to meet a new student and teenage literary prodigy who transferred to research the school's bloody history, and recruits Felicity into a murderous experiment of their own.
INDIES:
Party Games by Jess Lea, August 2021, Romantic Suspense (Ylva)
The Loudest Silence by Olivia Janae, August 2021, Romance (Ylva)
♥♥
SEPTEMBER 2021
♥♥♥♥
The Final Child by Fran Dorricott 7th September 2021
(Adult Thriller) Standalone
Erin and her brother Alex were the last children abducted by 'the Father', a serial killer who only ever took pairs of siblings. She escaped, but her brother was never seen again. Traumatised, Erin couldn't remember anything about her ordeal, and the Father was never caught. Eighteen years later, Erin has done her best to put the past behind her. But then she meets Harriet. Harriet's young cousins were the Father's first victims and, haunted by their deaths, she is writing a book about the disappearances and is desperate for an interview.
♥♥
The Scratch Daughters by Hannah Abigail Clarke 14th September 2021
(Young Adult Fantasy) Book 2 in a trilogy
The second book in the Scapegracers trilogy, formerly outcast lesbian witch who struggles to keep her coven as the loss of her magical soul drives her to desperation.
♥♥
All of Us Villains by Amanda Foody and Christine Lynn Herman ?? September 2021
(Young Adult Fantasy) Book 1 of ?
After the publication of a salacious tell-all book, the remote city of Ilvernath is thrust into the spotlight. Tourists, protesters, and reporters alike flock to its spellshops and historic ruins to witness an ancient curse unfold: every generation, seven families name a champion among them to compete in a tournament to the death. The winner awards their family exclusive control over the city's high magick supply, the most powerful resource in the world.
INDIES:
Fool For Love by Rachael Sommers, September 2021, Romance (Ylva)
An Island for Us by Wendy Hudson, August 2021, Adventure/Mystery (Ylva)
No title by Jae, August 2021, Romance (Ylva)
♥♥
OCTOBER 2021
♥♥♥♥
INDIES:
Two Witches (Working title) by Sanaa Marcosta, October 2021, Romantic Fantasy (Ylva)
Colstead & Andie by Olivia Janae,October 2021, Romance (Ylva)
Chasing Dreams by AL Brooks, October 2021, Romance (Ylva)
♥♥
NOVEMBER 2021
♥♥♥♥
INDIES:
Best Kind of Trouble by Lola Keeley, November 2021, Romance (Ylva)
Vengeance Planning for Amateurs by Lee, November 2021, Romantic Comedy (Ylva)
♥♥
DECEMBER 2021
♥♥♥♥
♥♥
Get It Right by Skye Kilaen 1st December 2021
(Adult Romance) Standalone
Finn is finally out of prison, which is great. Having no job, no car, and no place to sleep except her cousin's couch? Not so great. Plus, her felony theft conviction isn't doing wonders for her employment prospects, so she can't afford her migraine meds without the public clinic. The last thing she ever expected was for the gal who stole her heart to come walking down that clinic's hallway: Vivi, the manicure-loving nurse who spent two years fighting the prison system to get proper medical care for her patients, including Finn.
♥♥
Fools in Love by Rebecca Podos & More ?? December 2021
(Young Adult Contemporary Romance Anthology) Standalone
Sasha and I are simple girls, we see Natasha Ngan writing something new, we immediately prepare to die for it. A romance anthology offering new takes on classic romance tropes in multiple genres
♥♥
SPRING 2021
♥♥♥♥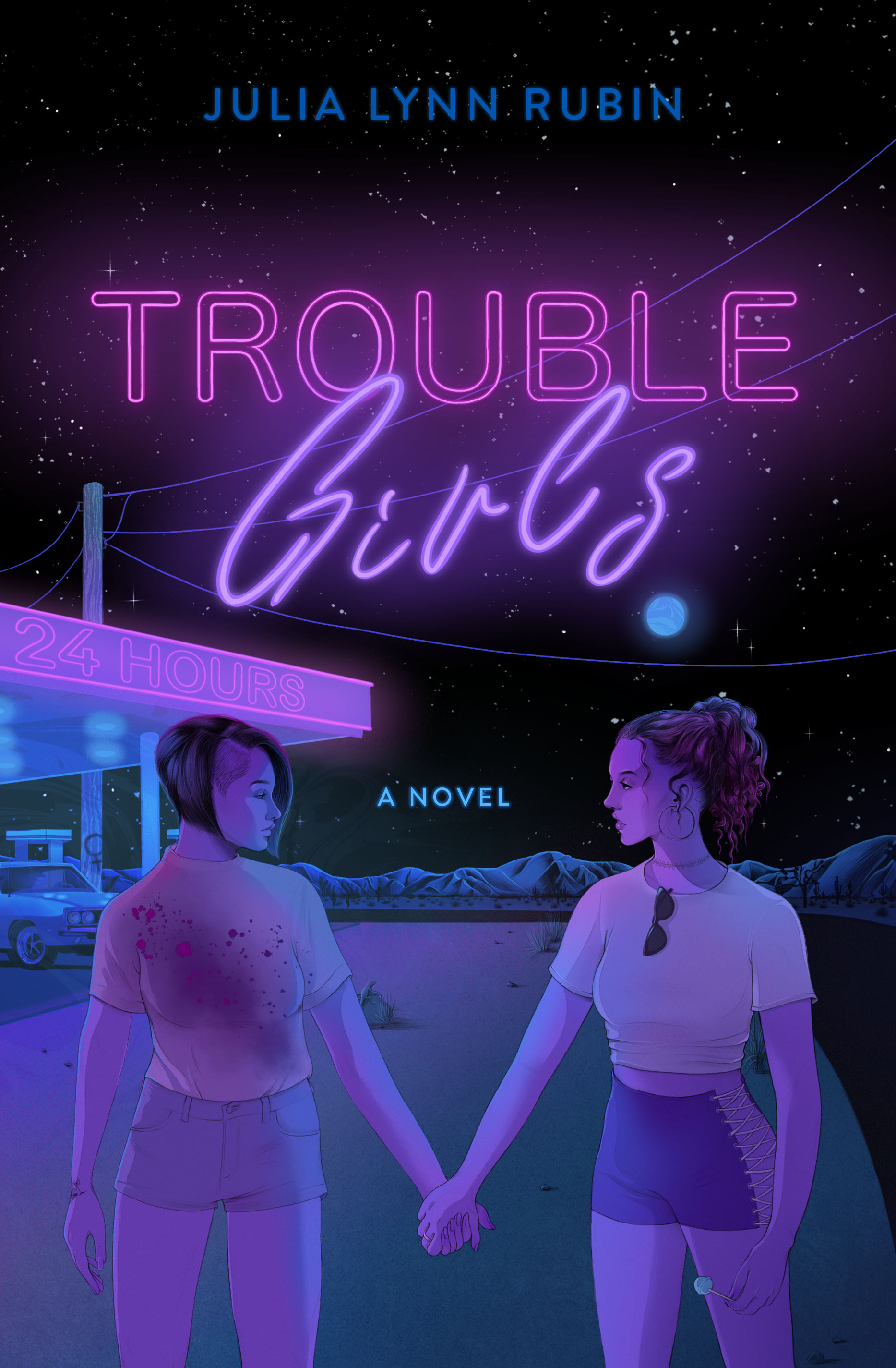 Trouble Girls by Julia Lynn Rubin Spring 2021
(Young Adult Contemporary) Book 1 in a duology
a queer, modern re-imagining of Thelma & Louise where after stabbing a would-be rapist to death, two best friends go on the run in a journey that grows darker and deadlier with each new disastrous decision they make.
♥♥
The Ojja-Wojja: A Teen Horror Mystery or Whatever, You Know? by Magdalene Visaggio Spring 2021
(LGBT Graphic Novel) Standalone (?)
A queer-positive graphic novel by Magdalene Visaggio and Jenn St-Onge. Val Malloy is an autistic kid with two interests: the supernatural and her best friend, Lanie. When Val and Lanie accidentally unleash a mysterious entity known as the Ojja-Wojja, transforming their town into a mind-controlled cult, they must team up with other misfits to stop it.
♥♥
The Princess and the Grilled Cheese Sandwich by Deya Muniz Spring 2021
(Middle Grade Graphic Novel) Standalone
Lady Camembert, a denizen of the Kingdom of Fromage, must disguise herself as a man in order to inherit her father's estate, but her secret becomes difficult to keep once she falls in love with the royal Princess Brie.
♥♥
Learn to Knit in Nine Months or Less by Hettie Bell Spring 2021
(New Adult Romance) Standalone
An unplanned pregnancy spurs a young woman to join a knitting group, where she finds an unexpected romance with the woman who runs it and an unexpected family in her fellow knitters.
♥♥
How to Become a Planet by Nicole Melleby Spring 2021
(Middle Grade Contemporary) Standalone
in which 11-year-old Pluto struggles with her depression and anxiety diagnosis, which feels like a big black hole sitting on her chest making it too hard to do anything. She makes efforts to find balance with an assist from the friendly voice on the Hayden Planetarium's Astronomy Question and Answer Hotline.
♥♥
Sings Like a Bird by Nawaaz Ahmed Spring 2021
(Young Adult Contemporary??) Standalone
SINGS LIKE A BIRD, is about exploring the refractive nature of family and belief, through the complicated relationship of two Muslim Indian sisters—one lesbian, the other religiously devout—over the course of one week in San Francisco after the 2008 elections, capturing an America simultaneously electrified by the ascendance of its first African American president and fracturing under ideological stresses.
♥♥
The Paper Garden by Caitlin Vance Spring 2021
(Contemporary Retelling Collection) Standalone
A darkly humorous, gothic and speculative story collection that explores contemporary queer romances, mother-daughter relationships and mental illness by reimagining fairy tales or myths.
♥♥
SUMMER 2021
♥♥♥♥
♥♥
The Mythic Koda Rose by Jennifer Nissley Summer 2021
(Young Adult Fantasy) Standalone debut
THE MYTHIC KODA ROSE, pitched for fans of Nina LaCour and Jandy Nelson, features a queer teen exploring the enigmatic legacy left behind by her rock star father and suddenly navigating an emotionally charged bond with his mercurial ex-girlfriend.
♥♥
Indestructable Object by Mary McCoy Summer 2021
(Young Adult Contemporary) Standalone
This novel follows a queer teen girl who hosts a podcast about the love stories of great artists. When she finds her life falling apartafter her parent announce they're divorcingand her boyfriend breaks up with her right after graduation, it inspires her to set out on a summer podcast project about whether love even exists at all.
INDIES:
There's Magic Between Us by Jillian Maria, Young Adult Fantasy, Summer 2021
FALL 2021
♥♥♥♥
This Is Our Rainbow: 16 Stories of Her, Him, Them, and Us by Katherine Locke and more Fall 2021
(Middle Grade Anthology) Standalone
The middle grade fiction anthology collects short stories, poetry, and comics about LGBTQIA+ characters and experiences by contributors Locke, Melleby, Eric Bell, Lisa Jenn Bigelow, Ashley Herring Blake, Lisa Bunker, Alex Gino, Justina Ireland, Shing Yin Khor, Mariama Lockington, Marieke Nijkamp, Claribel Ortega, Mark Oshiro, Molly Knox Ostertag, Aida Salazar, and A.J. Sass.
♥♥
Love, Violet by Charlotte Sullivan Wild Fall 2021
(Middle Grade???) Standalone
A story about a girl named Violet with a crush on another girl who attempts to share how she feels on Valentine's Day.
♥♥
Reader, I Murdered Him by Betsy Cornwell Fall 2021
(Young Adult Thriller/Mystery??) Standalone
A tale of female agency, queer romance, and revenge in which a girl becomes a teenage vigilante who roams Victorian England using her privilege and power to protect other young women from abusive Gothic heroes
♥♥
The Meadows by Stephanie Oakes Fall 2021
(Young Adult Contemporary) ??
Morris Award finalist Stephanie Oakes's THE MEADOWS, pitched as a YA 'Handmaid's Tale' meets 'Never Let Me Go', the story centers around a queer girl who has pretended to "reform" following years in a government-sanctioned conversion therapy center, but can't forget the girl she left behind, and so resolves to find her
♥♥
Of Blood and Briars by Rebecca Kim Wells Fall 2021
(Young Adult Fantasy) Standalone (?)
Cursed to kill all those she touches, Lena endures an isolated life on the run from her fellow humans. But when an enigmatic stranger offers to help her break the curse in exchange for her aid in waking a princess hidden in an enchanted forest, Lena embarks on a quest to win her freedom, no matter the cost.
♥♥
A Dark and Starless Forest by Sarah Hollowell Fall 2021
(Young Adult Fantasy) Standalone (?)
A contemporary YA fantasy about nine magical siblings who live in a secluded house cut off from the rest of the world by a sinister forest with their enigmatic caretaker, who is grooming them for a dark and mysterious purpose.
♥♥
City of Shattered Light by Claire Winn Fall 2021
(Young Adult Sci-Fi) Standalone (?) debut
Cyborgs! Guns! Flirting! Matriarchal crime syndicates! Heists! Brain-tech interfaces! Girls kissing girls! Girls kissing boys! Bass-pumping cyberpunk nightscapes! Queer found family! Possessed murderous tech! Drugged bubblegum! Creepy labs! Organ piracy! Cute girls who are actually steel-and-silicon death machines! Gravity-shifting gladitorial pits! 154-hour nights!
♥♥
Squad by Maggie Tokuda-Hall Fall 2021
(Young Adult Graphic Novel) Standalone
a darkly comedic YA graphic novel by Maggie Tokuda-Hall (l.), illustrated by Lisa Sterle. It's about a clique of teen girls whose favorite pastime is to "get dressed up, go to parties, target entitled, date-rapey Bros, turn into wolves, and eat them."
♥♥
UNDATED 2021
♥♥♥♥
♥♥
Girls at the Edge of the World by Laura Brooke Robson ?? 2021
(Young Adult Fantasy) Debut Book 1 in a duology
An apocalyptic fantasy told in alternating POVs about the leader of a band of female elite royal aerialists whose plan for survival depends on marrying the prince—until she meets the alluring new recruit who secretly plans to kill him.
♥♥
Jade Fire Gold by June C.L. Tan ?? 2021
(Young Adult Fantasy) Standalone (?)
In order to save her grandmother from a cult of dangerous priests, a peasant girl cursed with the power to steal souls enters a tenuous alliance with an exiled prince bent on taking back the Dragon Throne. The pair must learn to trust each other but are haunted by their pasts—and the true nature of her dark magic.
♥♥
Like Other Girls by Britta Lundin ?? 2021
(Young Adult Contemporary) Standalone (?)
A F/F YA book about five girls who join their small town football team and disrupt everything.
♥♥
Untitled by Lyla Lee ?? 2021
from the author's twitter " it's very sapphic, sort of a companion novel (not a sequel) to I'LL BE THE ONE" I mean, I don't know about you, but I hear 'it's very sapphic' and everything else becomes background noise and I immediately need it in my life.
♥♥
Some Girls Do by Jennifer Dugan ?? 2021
(Young Adult Contemporary) Standalone
An openly gay track star falls for a closeted, bisexual local beauty queen with a penchant for fixing up old cars.
♥♥
The Coldest Touch by Isobel Sterling ?? 2021
(Young Adult Paranormal Fantasy) ??
a lesbian vampire is hired to recruit a human girl with the power to see the death of anyone she touches. murder and romance ensues
♥♥
The Lost Girls by Sonia Hartl ?? 2021
(Young Adult Paranormal Fantasy) ??
When the vampire who turned Holly into the undead in 1987 (leaving her as a 16-year-old with badly crimped hair for all eternity) breaks up with her, she's approached by two girls he also claimed to love, turned, then ditched. But their plan to kill him before he can strike again grows complicated when Holly starts to fall for the mortal girl they're trying to protect.
♥♥
Rise to the Sun by Leah Johnson ?? 2021
(Young Adult Contemporary) Standalone
Set over the course of four days at a music festival, the novel features strangers Toni and Olivia, who meet and realize that the music is more than just a way out; it's a way through… if they are brave enough to face it together.
♥♥
The Devouring Wolf by Natalie C. Parker ?? 2021
(Middle Grade Fantasy) Book 1 of ?
In this queer take on werewolf mythology, a young werewolf is distraught when she doesn't transform into a wolf the summer following her 12th birthday, like everyone else in her community. To get to the bottom of the mystery, she'll need to unearth her community's deepest secrets and face a terrifying creature from legend.
♥♥
Fire Becomes Her by Rosiee Thor ?? 2021
(Young Adult Historical Fantasy) Standalone (?)
This queer YA fantasy with a Jazz Age spark follows a politically savvy girl from the wrong side of the tracks as her drive for self-advancement comes into conflict with her heart during an election year where magic buys votes. A demiromantic MC, women in power suits, platonic queer relationships AND eating the rich?!?!?
♥♥
Hazel Bly and the Deep Blue Sea by Ashley Herring Blake ?? 2021
(Middle Grade Contemporary) Standalone
The story follows a girl who's lost one of her moms in an accident which had made her anxious & safety-obsessed. She's locked herself away, so it's essentially about her unlocking. A New England seaside town, a mermaid myth that just might be true, & of course, first crushes.
♥♥
Yerba Buena by Nina LaCour ?? 2021
(Adult Contemporary) Standalone
Sara is a broken girl from a drug-soaked Northern California town. Fueled by panic, desperation, and impulse, sheheads south, hoping to start over in LA. Adecade after Sara has come of age in the restaurant industry, we meet Emilie, the granddaughter of Creoles who left New Orleans to escape segregation. Emilie takes a job arranging flowers for an elegant LA restaurant—andthings get complicated when she captures the attention of the restaurateur and engagesinan affair. When Sara and Emilie meet, their connection is immediate.
♥♥
A Dowry of Blood by S.T. Gibson ?? 2021
(Adult Fantasy) Standalone (?)
Saved from the brink of death by a mysterious stranger, Constanta is transformed from a medieval peasant into a bride fit for an undying king. But when Dracula draws a cunning aristocrat and a starving artist into his web of passion and deceit, Constanta realizes that her beloved is capable of terrible things. Finding comfort in the arms of her rival consorts, she begins to unravel their husband's dark secrets.
♥♥
Like A Love Song by Gabriela Martins ?? 2021
(Young Adult Contemporary) Standalone
♥♥
The Bone Way by Holly J. Underhill ?? 2021
(Adult Fantasy) Standalone (?)
When her wife Cressidae goes missing, Teagan immediately knows where she has gone. A kingdom of the dead filled with untold nightmares, the Shadow Realm is the only place that can save Teagan from a lethal poison that's killing her slowly. It is ruled by a princess said to make powerful deals with those brave enough to find her, and Cressidae has gone to bargain for Teagan's life. Cressidae has forgotten one very important thing: no one makes it out on their own.
♥♥
Alecto the Ninth by Tamsyn Muir ?? 2021
(Adult Sci-Fi/Fantasy) Book 3 in a trilogy
The Ninth House trilogy—Gideon the Ninth, Harrow the Ninth, and Alecto the Ninth—is an epic science fantasy that blends necromantic theory and thrilling swordplay with a wicked, sacrilegious sense of humor; a modern mix of Dune, Riddick, and Gormenghast.
♥♥
Dangerous Remedy 2 by Kat Dunn ?? 2021
(Young Adult Historical Fantasy) Book 2 of ?
Camille, a revolutionary's daughter, leads a band of outcasts – a runaway girl, a deserter, an aristocrat in hiding. As the Battalion des Mortes they cheat death, saving those about to meet a bloody end at the blade of Madame La Guillotine. But their latest rescue is not what she seems. The girl's no aristocrat, but her dark and disturbing powers means both the Royalists and the Revolutionaries want her. But who and what is she?
♥♥
Untitled (Camelot Rising #3) by Kiersten White ?? 2021
(Young Adult Fantasy) Book 3 in a trilogy
♥♥
Tempests and Temptation by Kara Jorgenson ?? 2021
(Adult Romance) Book 2 in a series
The forthcoming second book in the Paranormal Society Romance series. More info will follow, but this book is f/f and will follow Bennett's friend and housemate Ruth.
♥♥
Goodbye, Battle Princess Peony by Mira Ong Chua ?? 2021
a F/F Gothic romance about ancient rivalry, eternal romance, and falling in love with the wrong crowd.
♥♥
Candidly Cline by Kathryn Ormsbee ?? 2021
(Middle Grade Contemporary) Standalone
♥♥
Of Trust & Heart by Charlotte Anne Hamilton ?? 2021
(New Adult Historical Fiction) Standalone (?)
An #OwnVoices f/f 1920s historical new adult novel, in which a Scottish heiress, who must find a husband soon, falls for a singer at a speakeasy.
♥♥
Blackheart Knights by Laure Eve ?? 2021
(Fantasy) Standalone (?)
From author's twitter: it's Camelot but in Gotham City. Knights ride around on motorbikes instead of horses, in leather, with swords, because that is a world I'd like to live in. There's magic but also electric trains and television and urban wastelands and dive bars. It's sexy, and violent, and queer, and did I mention swords?
♥♥
The Love Song of Ivy K. Harlowe by Hannah Moskowitz ?? 2021
(Young Adult Contemporary) Standalone
When Andie's gorgeous, lifelong best friend (and secret obsession) Ivy develops feelings for another girl, Andie grapples with the bitter fact that the great love story of Ivy's life might not include her.
♥♥
The Dust Alphabet by Rebecca Podos ?? 2021
(Young Adult Fantasy) Standalone (?)
a contemporary YA fantasy about identity, faith, and fate. On her 17th birthday, Hannah is cursed by a sheyd (a Jewish demon) as the price for a desperate bargain that her mother made long ago. To break the spell, she and her brother must track down their mother's estranged family and discover a legacy they never dreamed of—one that traces back to the famous Golem of Prague.
♥♥
Almost Flying by Jake Maia Arlow ?? 2021
(Middle Grade) Standalone debut
The book follows 13 year old Dalia as she takes part in a summer road trip to several amusement parks and celebrates found family, first queer crushes and the singular delight of roller coasters.
♥♥
The Midnight Lie #2 by Marie Rutkoski ?? 2021
(Young Adult Fantasy) Book 2 in a duology
DARK NIRRIM!!!! LETS GOOOOOOO
♥♥
The Way Back List by Lily Anderson ?? 2021
(New Adult Contemporary) Standalone
Lily Anderson's THE WAY BACK LIST, in which a 20-something over-achiever loses her Silicon Valley job, moves home with her parents, and decides to complete her high school bucket list in an effort to find herself, connecting with her small town and former friends along the way.
♥♥
Noa and Lilah's Guide to Surviving V-List Fame by Jennet Alexander ?? 2021
(Rom-Com) Standalone debut
Noa Birnbaum has just gotten a job as a makeup assistant on a movie, thanks to her roommate. She's thrilled when she learns that Lilah Silver will be the star—she's had a crush on the leading lady for a while. But when she meets Lilah at the studio, Noa is unimpressed – Lilah is distant and shallow, and Noa isn't in any hurry to get to know her.
♥♥
Untitled by Rebecca Coffindaffer ?? 2021
(Young Adult Sci-Fi) Book 2 in a duology
A deadly competition for the throne will determine more than just the fate of the empire in this riveting duology, perfect for fans of The Hunger Games, Aurora Rising, and Three Dark Crowns.
♥♥
The Heartbreak Bakery by Amy Rose Capetta ?? 2021
(Young Adult Fanatsy) Standalone
♥♥
The Heartbreak of Corazon Taguibo by Laurel Flores Fantauzzo ?? 2021
(Not sure)
Cory Tagubio is an outcast at her all-girls Catholic high school. In the wake of an accident, Cory grows close to her history teacher, Ms. Holden, but when the crush turns into something more, Cory is shipped off to her half-brother in the Philippines, leaving her to discover how her family and their country have shaped her past and how they might change her future.
♥♥
Untitled by Alicia Jasinska ?? 2021
(Young Adult Fantasy)
♥♥
Girls of Fate and Fury by Natasha Ngan ?? 2021
(Young Adult Fantasy) Book 3 in the Girls of Paper and Fire Series
A synopsis would be too spoilery, but just know that gopaf stans will probably never recover and we're ready to die for this book already. WREN POV LETS GOOOOO. Sasha and I are prepared to perform multiple sacrifices to get ahold of any arcs (if there are any) of this book heheh.
♥♥
Forever Is Now by Mariama J Lockington ?? 2021
(Poetry) Standalone
A novel in verse about an agoraphobic teenager who must find a way to boldly step outside herself for the sake of her relationships and community.
♥♥
Renegade Rule by Ben Kahn, Rachel Silverstein, Sam Beck ?? 2021
(Young Adult Graphic Novel) Standalone
The Manhattan Mist have beaten the odds to land themselves in the national championships for Renegade Rule, one of the hottest virtual reality games in existence. But they're in for competition fiercer than they ever imagined, and one team member's entire future could be at stake. Four queer female friends will have to play harder than ever against self-doubt, infighting, romantic distraction, and a slew of other world-class teams if they hope to become champions.
♥♥
(No clue what age??) Standalone
VIOLET is about a young woman who works in a flower shop and has been shunned by her female high school lover, which sets her apart from society and the world of Seoul.
INDIES:
Moonlight Mountain by Bright Star Publishing, 2021
♥♥♥♥
As always, thank you so much for reading!! Please follow our blog if this post interested you :)) Also, feel free to reach out if any books shouldn't be on this list or you know of any to add!! Thank youuuu ❤
Be sure to check out our dear friend Hsinju's incredible list of 2021 sapphic indie books!!